Cuban meals, family and memories..
12/20/19
By Elisa Hernandez
Hello again and thank you for checking out my food blogs. As you already know I am a latin gal from Florida with a ferocious appetite for discovering new food. My husband finds it humorous that I can eat him under the table on any given day as long as I am enjoying what I eat. I've been passionate about food since an early age growing up in Miami with my Cuban/Dominican parents.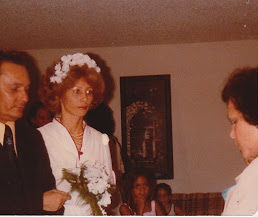 Some people find it hard to believe that in Cuban Cuisine there is a lot more than Cuban sandwiches and Mojitos. I am here to tell you there is lots more! Cooking, for my hispanic family wasn't done out of creativity or exploration, it was done out of necessity. Food was limited in our household and it seemed I was always hungry. My father worked as a butcher at times and would bring us some nice cuts of meat whenever he could, which was quite the treat.
If you've read my previous blogs you will learn my mother, although she was a wonderful woman did not have a passion for cooking. My father however, enjoyed having the entire family over and would cook his famous rabo encendido (spicy stewed oxtails) which were fantastic. His secret was adding beer, a plain old fashioned can of Budweiser. It has taken me many years to learn how to cook Oxtails like him and it remains one of my favorite dishes.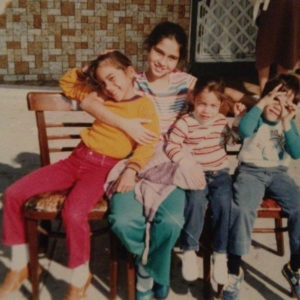 As Floridians that lived in Miami, we often went fishing with my father's family under piers in Key West or on the rocks in Haulover Inlet Jetty. Those were my favorite times! Our family caught tons of fresh Red Snapper and other curious fish. One type of fish that seemed to be a nuisance was the puffer fish. My dad always warned us to never touch or eat it due to it's toxicity.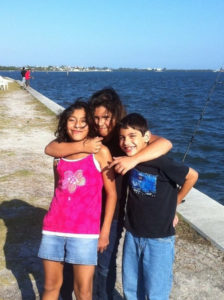 The children were given the task of preparing the fish which meant scaling, gutting the fish and washing the insides well. I honestly looked forward to this event as I got to spend time with my cousins. Once cleaned, a hot skillet was prepared and we fried the fish on the spot. I must say it was one of the best and freshest fish I've ever tasted til this day. The only downside was watching out for the fish bones! If swallowed it can be potentially deadly or very uncomfortable if it gets stuck in your throat. With caution we carefully picked the sweet, soft flesh apart with our fingers and topped it off with a fresh squeeze of lime and a dash of salt! Oh how my mouth waters to remember these joyous days.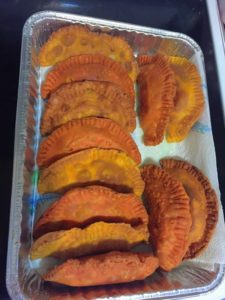 During holidays it was customary in our family to make a huge feast which included a large amount of food and lots of finger picking foods. In a Cuban meal you will find Lechón asado / Pernil (roasted pork), that has been thoroughly marinaded overnight with salt, pepper, crushed garlic, oregano,  sour oranges, cumin, olive oil then immaculately roasted for several long hours in an outdoor pit or "caja china".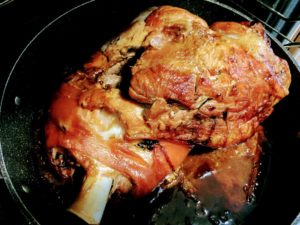 If you are feeding a large family you will typically use a whole pig but if it's just for a few people, the normal piece to roast is the leg. Next to the "pernil" on the table you will find Yucca (yucca root) that is boiled to tenderness and topped with fried onions (marinated in vinegar and salt) and garlic bathed in Olive Oil. This starchy substance has a very mild flavor eaten alone, but topped with the above referenced ingredients it is sheer perfection!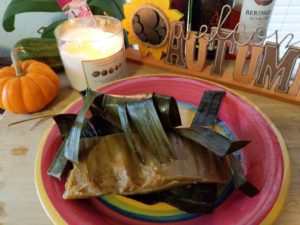 One of the hardest dishes to make is called "Pasteles", it takes hard work and countless hours to prepare this special morsel. You were considered fortunate if you were able to get your hands on some of these.
As latinos we must always have rice, basically with EVERY meal. I love rice, so I have no complaints when it comes to eating it daily. Our rice however is traditional Congri / Moro (rice with black beans). The ingredients for this amazing rice is included in the link above. Besides that platter you will discover some type of garden salad which included lettuce, tomatoes, red or white onions and maybe those canned assorted vegetables that are usually sprinkled on top.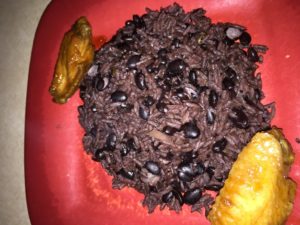 Most importantly, Cuban bread is always present for meals and in my opinion, is the tastiest bread ever created. My dad used to take me early in the morning to the local bodega (store) Paquitos, that baked it's own fresh bread daily. (I have spent years trying to find a Cuban bread that tastes like theirs with no results). As a child, it was a treat to look up at the high deli counter and grab this hot steaming bread. I carefully handled it with care like a newborn child all the way home. What made this bread so special is that the inside was pale, warm and billowy but it was the taste, similar to sourdough that captured my soul. The golden crusts had to be super crispy but easily breakable and the ends which we called "el culito del pan" (the butt of the bread) were always favored and fought for! My weakness for sure. 
My grandma Lilia had a magnificent Avocado tree in the backyard that everyone loved to climb when they came to visit. Although the tree itself was enough to enjoy, it bared incredible sweet glorious avocados. Served with a bit of a dressing my grandma would make consisting of onions, olive oil, vinegar or lime, salt and pepper, these green delights were amazing! If I close my eyes and remember them, the taste clearly appears on my palate. Fried sweet plantains would also be an important part of our meals. I enjoyed them because they broke apart the heavy seasonings from the meat and rice and completely enhanced the dish. When I feel extra naughty I will coat the raw yellow plantains with sugar and a bit of salt. 
Why add the sugar? The sugar caramelizes them while delivering a crunchy type of crust on the edges and exterior. People have fought over the last ripe sweet cooked plantain at the dinner table, I kid you not.
One of my favorite culinary adventures was eating at low key Cuban restaurants in Miami & Miami Beach. Places where I can find authentic Cuban cuisine. One of the places I tried which left quite the impression on me happened to be in an area I grew up in (Miami Beach). Many years ago I went to a restaurant called Yuca on Lincoln Road, Miami Beach where they served "to die for", Oxtails. A perfectly placed traditional dish with a breath of  elegance. Oh what a joy that meal was. Sometimes you get lucky and the reviews turn out to be accurate. 
Back to our family meals….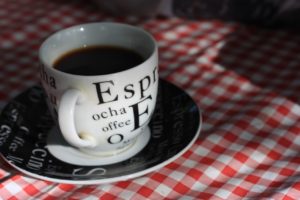 It wouldn't be a complete meal without that small cup of sweetened black coffee after everyone has eaten. Usually made in a "Greca" (espresso maker), I sharply remember my grandma adding ground coffee to a cloth filter (that resembled a dirty sock) and poured hot water over it. Don't let the filter scare you, the coffee comes out divine and is customarily served in 2 inch cups with a matching saucer. Once you drink your coffee, the host will usually come by and pick up your dishes. In some families it is considered rude to leave a guest hanging on to his empty cup for too long. Don't ask me where this comes from…
Dessert is usually laid out during or after a hot cup of cafecito. It could be anything from Pastlitos de Guayaba y Queso (Guava and Cream Cheese filled pastry) or just Pastelitos de Guayaba (Guava filled pastry).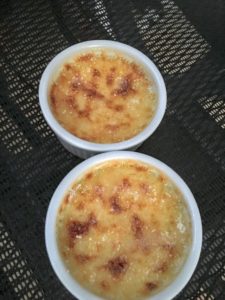 Flan (custard) is very delicious and popular at latin meals as well. Problem with flan is that it is so tasty you just can't stop eating it, seriously give it a try and get back to me.
There was always a supreme abundance of alcohol at every Cuban get together. My father loved Heinekens and Budweiser and he pretty much had a cold beer with every meal. Along with beer you would find Rum of all types on the table, that we, the kids would snatch up and drink under the table. Alcohol at our reunions was like the salt on the brim of a Margarita glass, it is present to kick things up a notch.
If no one has told you yet, Cuban people, like most latino folk know how to party and when they do it usually lasts til the next day.  Those that didn't mind sleeping on a couch or floor would stay over to sleep off the liquor.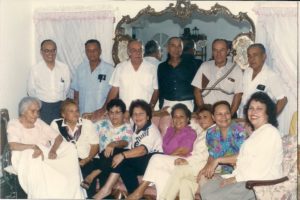 Music was the foundation of our family. Everyone loved to listen to their record collections.  The older family members listened mostly to old spanish music which brought about their true spirits, and the younger ones listened to all the 80s pop songs. Entranced in dance were these happy people laughing and enjoying each other's company and I got to be a part of it.
Although food was the glue that helped bind our family, it was our love for each other that always kept us close. Even when we didn't visit relatives, we always kept in touch via phone calls, letters or cards. Every member of the family brought a unique charm to the kinship. When someone needed help, money or provisions the family would always showed up without fail. We attended many births, communions, confirmations, marriages and deaths together. It was really a family or what I believed it to be. We stuck together and saw each other grow up. My mother is the first to attest to the tremendous help and love we received from many close relatives during hard times. We will always be thankful for these family members (you know who you are).
As the years went by we drifted apart, but we stay in touch. Crazy how this modern approach to correspondence has changed our lives. Now we mostly communicate through Social Media.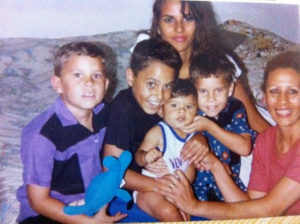 All the above referenced items (food, music, and love) were essential in our family which eventually shaped who I am today. Starting with the unforgettable romantic music my mother would play as as child, the memories of playing instruments together as a family, the amazing fishing trips to the drinks that loosened everyone up. This powerful concoction (family) was the spice that laced my oxygen.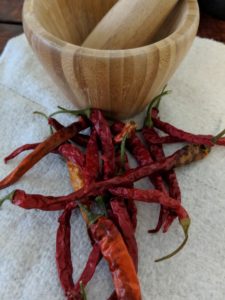 Today as a result, I am a strong, imperfect but joyous woman that enjoys making music with her beloved husband inspired by those old records. I love cooking using the spices and techniques inspired by my ancestors. Lastly, I regularly enjoy an ice cold beer or glass of wine with my husband on sporadic evenings with no regrets. I believe our past carves us into who we will be in the future. I say, "take in the good, move past the bad, keep those old memories close to your heart and try to be a good person".
The moment food started to become more meaningful was when I learned to be grateful for every meal. With every dish, I began to appreciate the person that prepared the food for me,  the food suppliers, and especially our under appreciated, but cherished farmers.
I pray my children will grow to be passionate about food with its beautiful complexities and pass on this knowledge forward. Food is more than nutrition, it is a way of life. It is a way to connect with the earth and its precious inhabitants.
Love and Light to all!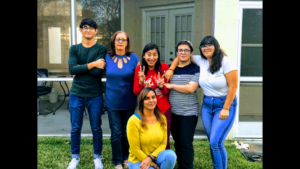 Photo credit: Elisa Hernandez and borrowed Facebook photos from family members